Retreats & Escapes at The Lodge at Sanctuary
I am pure love: an introduction to self love – All inclusive 2 day retreat
With Lorna Byrne
September 20 - 22, 2023
"We all have the potential to love ourselves and others significantly more. If we choose to love more, we will have greater happiness and joy in our lives and be better to play our unique role in creating a much more loving and peaceful world." Lorna Byrne
According to spiritual teacher Lorna Byrne, self-love is the most important form of love. If you don't love yourself, you cannot love anyone else properly. Join Lorna Byrne on this beautiful retreat as she guides you along the first steppingstones in the journey of self-love.
During this retreat you will have the space to:
Acknowledge how self love is the most important thing FOR YOU
Find the courage not to be afraid of self love and take the first step forward
Over the course of the retreat you will receive instruction in person with Lorna Byrne as well as time in a group setting to practice what you are being taught and to share and learn from others. There will also be time set aside for quiet reflection and completing Lorna's homework.
*Minimum of 8 hours teaching time with Lorna.
The work on re-learning to love yourself is so important. Limited to 15 participants this extremely intimate retreat will include sessions with Sanctuary's founder and spiritual teacher Lorna Byrne spread across the time you are here* In keeping with her style of guidance Lorna will tailor the activities, teachings and exercises to suit the exact needs of the group attending. Depending on the weather you will also have the opportunity to practice outdoors in nature as Lorna herself was taught as a child.
Accommodation: Relax in our traditional style, peaceful and undisturbed comfortable accommodation. This package includes a choice of room types. Free wifi.
Meals: 3 delicious farm-to-table local, mostly organic, sustainable, nutrient-dense, artisanal, and whole-food meals.
Library: Select a book from the eclectic and fascinating collection inherited from the previous owners of the lodge, and relax in the dining or fire-side in the living room.
Sanctuary Gardens at The Lodge: Perched yourself among the trees, the Sanctuary is the spiritual heart for us all.  It is a place of beauty and tranquility. Meditate, contemplate, and journal in your own time.
Gardening: Feel the energy in the soil. Lead a hand in the gardens under the direction of a staff member.
Leader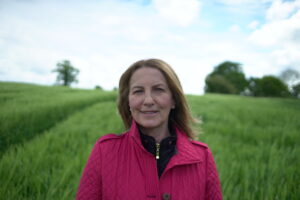 Lorna Byrne
Spiritual visionary, international bestselling author, philanthropist and Founder of Sanctuary, Lorna Byrne has dedicated her life to remind humanity of the spiritual potential within us all. She is the author of seven best-selling books, including the million copy Angels in My Hair, A Message of Hope From the Angels, and Angels at my Fingertips and she has been published in more than 50 countries and 30 languages around the world. Her teachings are the result of a remarkable gift, a divine connection providing her with incredible, detailed knowledge of the spiritual side of life. Unlike other spiritual teachers she has shared a platform with,…
Learn more about Lorna Byrne