Retreats & Escapes at The Lodge at Sanctuary
Reconnecting with the Power of Nature – All inclusive 2 day retreat
With Lorna Byrne
August 25 - 27, 2023
"Our connection to our planet is so deep and so strong and each and every one of us can have this. You can learn to feel the heartbeat of a mountain, the mind of a mountain and hear nature talking to you." Lorna Byrne
Over the course of history as society became more industrial, humankind made many incredible advancements. People rose-up against injustice, looked for equality and minds became more open. Humankind wanted to learn more, to discover.
However, according to spiritual teacher Lorna Byrne, despite all the wonderful progresses, people are less connected to nature now than in the past. As she says we all need nature, it provides us with so much beauty and feeds us too. Most of the time when we are in nature, we become peaceful within ourselves, we let go, we allow ourselves to go into nature and then we may be carried over into the spiritual part of ourselves.
During this special retreat Lorna will teach you as she had been taught all her life, out in nature, how to start to:
Understand how being in nature helps you physically, mentally, and spiritually.
Connect spiritually to nature
Over the course of this mainly outdoor retreat, you will receive instruction in person with Lorna Byrne as well as time outside in a group setting to practice what you are being taught and to share and learn from others. Sessions with Lorna* will take place across the two days and be conducted in various outdoor areas around Sanctuary. There will also be time set aside for quiet reflection and completing Lorna's homework. In keeping with her style of guidance Lorna will tailor the activities, teachings and exercises to suit the exact needs of the group attending.
*Minimum of 8 hours teaching time with Lorna.
Accommodation: Relax in our traditional style, peaceful and undisturbed comfortable accommodation. This package includes a choice of room types. Free wifi.
Meals:3 delicious farm-to-table local, mostly organic, sustainable, nutrient-dense, artisanal, and whole-food meals.
Library: Select a book from the eclectic and fascinating collection inherited from the previous owners of the lodge, and relax in the dining or fire-side in the living room.
Sanctuary Gardens at The Lodge: Perched yourself among the trees, the Sanctuary is the spiritual heart for us all.  It is a place of beauty and tranquility. Meditate, contemplate, and journal in your own time.
Gardening: Feel the energy in the soil. Lead a hand in the gardens under the direction of a staff member.
Leader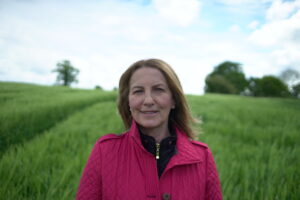 Lorna Byrne
Spiritual visionary, international bestselling author, philanthropist and Founder of Sanctuary, Lorna Byrne has dedicated her life to remind humanity of the spiritual potential within us all. She is the author of seven best-selling books, including the million copy Angels in My Hair, A Message of Hope From the Angels, and Angels at my Fingertips and she has been published in more than 50 countries and 30 languages around the world. Her teachings are the result of a remarkable gift, a divine connection providing her with incredible, detailed knowledge of the spiritual side of life. Unlike other spiritual teachers she has shared a platform with,…
Learn more about Lorna Byrne